Isn't it time you took steps to increase the value of your home? Isn't it time to leave that indelible mark on your property that showcases your scintillating personality? Isn't it time to transform your dull, pedestrian bathroom into
the Bat Room of your dreams?!
Powder-coated steel makes these unique
bat silhouette light switches
nice and durable. If you don't think they'd work in your batroom, how about using them in your mudroom or for the lights in your garage? You need one with three switches? They have that too. At $14 for the single, $18 for the double, and $30 for the triple, you'll have the coolest, Goth-iest light switches of anyone I know. The same people make matching towel racks and a robe hook, too, so now we have those covered as well.
photo: rejuvenation.com
Bats fly overhead in these 1892-replica
light fixtures
with the mysterious names of "Drake" and "Sunset". They are pricey though; the Drake fixture is $1749 and the shade is $399, bringing the price of a single lamp to $2148! Disneyland has one. So should you. (I know all the haunters out there are thinking "$2148! But if I took a 3/4" PVC pipe and a rubber bat and a rubber snake...!" Yes, well, when you make it, please send me your pics.)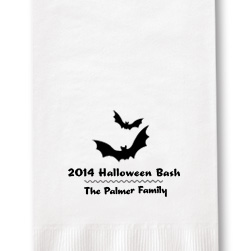 photo: giftsin24.com
A clean stack of paper
guest towels
on the countertop makes visitors feel special and sanitary. Bats are stamped in black foil, along with 2 lines of your personalized wording. Towels are 4.5" x 8.5", and are currently priced at $28.95 for 100. (Also available in dining napkins, or in spider design.)
photo: speedcult.com
To hold your batroom tissue, you'll need this
toilet paper holder
made from thick-guage steel. 13" wide x 6" high, it's $30. Screws to mount it in drywall are provided. (Sorry, I could not find bat-printed toilet paper. And you're welcome for that big-time money-making idea that you have now hastily set off to produce with your buddy that's in the printing business.)

photo: insideout.com

Hang your batrobe on an iron bat
hook
on the back of the door while you shower. If you didn't care for the style that matches the light-switch plates above, I suggest this alternative. At $10.99, this double hook measures approximately 9" by 5" and has a brownish mossy color. (But of course, you can spray-paint all of these things black for a matchy-matchy look.)
Shower curtains of all kinds can be found (would you believe there's a Justin Beiber shower curtain selling for over $70? WTF??), but we'll have to settle for the Batman Begins logo on our
shower curtain
until we find something better. It really
is
an attractive design; just a little too recognizable as the movie logo. Black design on white, 70x70 inches, $49.95
photo: Library Images
Finally, since you've got a captive audience, show them how refined and cultured you are by displaying some fine art on the wall. 27"x39"
bat poster
is $22.50.